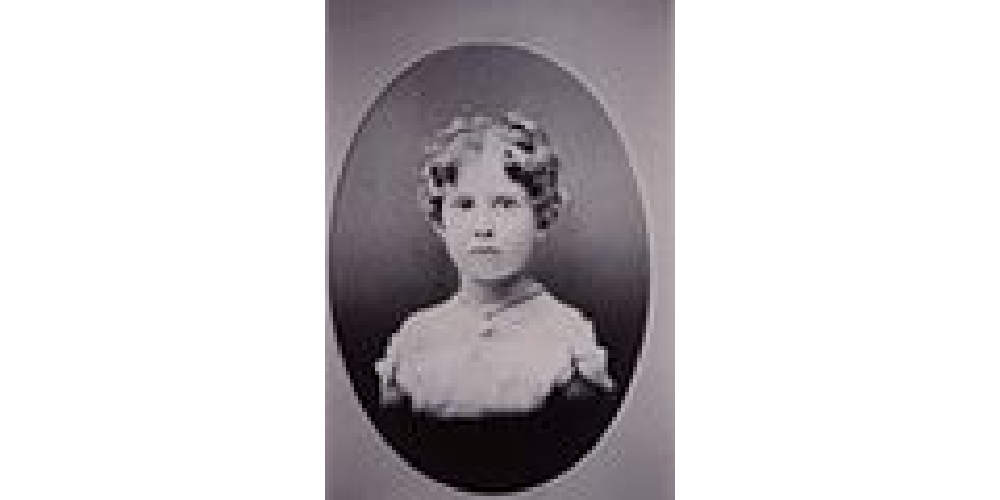 Under the eaves…Volume 2 Issue 5

Nellie Elizabeth Sarah Miller Nickels
 We have now learned about Henry, Jr's life, and that of Sarah Alice Maude Miller.  Henry and Sarah Wilmarth Miller had two additional children.  Nellie Elizabeth Sarah Miller born in August 1865 and Sarah Wilmarth Miller ("Little Willie") born between 1867 and 1869.   "Little Willie" died before her first birthday and was the first Miller child buried at the Bloomfield Farm Cemetery along Castro Valley Road, south of Gilroy.
Nellie was fond of "Little Willie" and was very upset by her death.  She, initially, resented the birth of Sarah Alice for taking her sister's place in the family, but soon came to love her new sister.
Like the other children, Nellie began riding at a young age.  She received most of her instruction from her Uncle Perry Robinson.  Uncle Perry was the Manager of the Bloomfield Farm and her mother's sister's husband.
While Sarah Alice loved the time, she spent on the farms, Nellie would have preferred to be at the San Francisco house.  She enjoyed getting new dresses and shoes, and was a sociable person.
Even though Nellie preferred the city, sometimes she would travel to the ranches with her father and the rest of the family.  Ralph Milliken interviewed J.V. Toscano between 1945 and 1947 on a few occasions.  Mr. Toscano related that the following story;
"Henry Miller's son was rough.  When he was here (Santa Rita), he and Jim used to play with Nellie Miller and Will White.   Young Miller was the oldest.  He was maybe 18 and rough and liked to break windows.  Miller used to come to my store every week to buy ten or twelve packages of candy.  'I gives them a package of candy when I come to the ranches and see the foreman's children."
(I have a feeling that candy was not the only thing that Henry bought at the store, I would imagine that a few new windows were purchased as well.)
In 1884, Nellie married Yale educated lawyer James LeRoy Nickel.  Nickel was from Pennsylvania.  Henry was not fond of his new son-in-law.  He felt that Nickel was an arrogant city person, lack managerial skills, had no interest in the cattle business, and was a terrible judge of character.  One of Henry's well-known statements was; "When he walks into a room, I walks out."
Nellie became a 'lady of fashion' after her marriage, she and her husband's names appeared in the Society Blue Book (a publication listing only the wealthiest and most social prominent families) in San Francisco and in Menlo Park.  Henry regretted this change in his daughter because he felt that she was no longer interested in the family business.
Henry Miller, along with other influential men in San Francisco during 1910, became part of the "Magical Million" pledging $25,000 to supported the 1915 Worlds Fair in San Francisco.  Nellie became an influential and enthusiastic hostess, in San Francisco, while raising funds for the event.
Nellie, even with her fashionable ways, was still an adventurist.  She purchased an automobile when they first appeared and would drive her father around San Francisco in it.  Henry finally purchased a Pierce-Arrow for himself, but was not very fond of it until he found that he could get in at Gilroy and be over at Canal Farm in two hours, this was a great improvement over his horse and buggy trips.
Nellie, devoted to her parents, took care of her mother and father towards the end of their lives.  Sarah Wilmarth Sheldon Miller died at her home in San Francisco at the age of 66 on July 21, 1905.  She and Henry had been married for 45 years.  When Henry suffered a severe attack of gout, his Doctor from San Francisco came to Canal Farm, near Los Banos.  Dr. Smith insisted that Henry go to the hospital in San Francisco and he got on a train in Los Banos, (not without some stubborn Germany arguing).  Nellie had an elevator installed in her San Francisco home so that she could care for her father in his last days.  Henry Miller died on October 14, 1916.
Nellie and James Nickel had four children; Henry, George W., Beatrice Sara, and J. LeRoy Jr…all of Henry Miller's descendants' come from this lineage.   Of the four only George and Beatrice had children.
The single portrait is of Nellie at about 4 years of age.
_____________________________________________________________________________________
References
Edited by Charles Sawyer, Interviews by Ralph Milliken, One Man Show Henry Miller in the San Joaquin, (Los Banos: Ralph Milliken Museum Society, 2003)
The Cattle King, by Edward F. Treadwell, (Western Tanager Press, 1981)
An article by Pat Snar, former Director of the Gilroy Museum on Find a Grave.  https://www.findagrave.com/memorial/180255932/sarah-alice-miller
___________________________________________________________________
I hope that you found this story interesting and enjoyed learning more about Henry Miller and his daughter Nellie.  Next, we will explore the lives of Nellie and James' children.
Questions and comments are always welcome.  Contact me; (Patti Perino) at 408-410-1495 or email at millerredbarn@outlook.com
If you would prefer to not receive emails regarding The Miller Red Barn, please respond with "unsubscribe".
If you have not read all of the stories about Henry Miller and would like to "catch up" they are posted on our website at;     https://millerredbarn.org in the Blog section.
If you or your company shop amazon.com for supplies, gifts or special things, please register with smile.amazon and select The Miller Red Barn (https://smile.amazon.com/ch/81-2628343).  We will receive a percentage of each purchase, at no additional cost to you.
On behalf of The Miller Red Barn Association, I would like to wish you all a Happy Holiday season
and a healthy, prosperous New Year.
Patti Perino
[gravityform id="2″ title="true" description="true"]