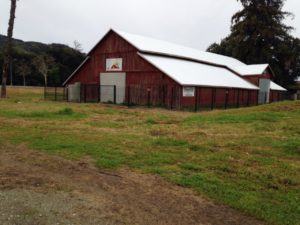 The new roof is up, thank you for your support.
 Some of Henry's contemporaries said…that he was very quick and agile and had remarkably expressive features. However, he was not a man who at first glance impressed many people.  Henry was relatively short and his stature was round; he had a low forehead, brown eyes and brown hair.  While he always dressed neatly, he did not care for fashion and mostly wore simple, dark clothing.
Henry's greatest passion was his work.  His marriage and family came second.  In the same year that Miller & Lux was founded, Henry proposed to Lux's sister-in-law, Nancy Wilmarth Sheldon.  They were married on April 14, 1858.  Tragically thirteen months later, she died during childbirth along with the son that she carried.  Miller returned to his work and the job of amassing a fortune.
One year after his first wife's death, while on a trip to San Francisco, he asked his deceased wife's niece to marry him.  Being an impatient sort, Henry gave her one afternoon to make her decision.  Sarah Elizabeth Wilmarth Sheldon said yes and became the second Mrs. Henry Miller the following day, June 10, 1860.  At the time of their marriage, Sarah was twenty and Henry was thirty-two.  The couple were married for 45 years until Sarah's death on July 21, 1905.
Not a lot is known about Sarah and Henry's personal lives.  Most of the private correspondence and private papers were lost in the 1906 fire following the San Francisco earthquake.  The remaining papers were apparently destroyed by the Miller's daughter-in-law, Sara Onyon Miller, shortly before her death in 1925. Sara Onyon Miller was the second wife of Henry Miller, Jr.
What is known about the family is courtesy of friends and employees.  According to all accounts, Sarah was a plain, down-to-earth woman, who was devoted to her family, left all business matters to her husband, and accepted his long absences and domineering manner without complaint.
Sarah and Henry had four children.  The first died in infancy. The second was a son, Henry Jr., born in 1862, who was followed by two daughters, Nellie Sheldon, born in 1865, and Sarah Alice, born in 1871.  Sarah and the children spend most of their time in San Francisco.  A mansion was built at the corner of Harrison and Essex in 1876 and was subsequently lost in the 1906 earthquake and fire.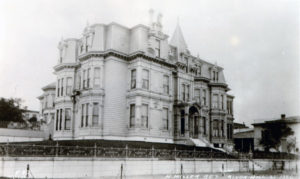 The Rincon Hill Estate of Henry and Sarah Miller built in 1876.  This location probably had a view of the bay when it was built.  It is now an apartment building with no view, except for the freeway and other buildings.
_____________________________________________________________________________________________________________Edited by Charles Sawyer, Interviews by Ralph Milliken, One Man Show Henry Miller in the San Joaquin, (Los Banos: Ralph Milliken Museum Society, 2003)
I hoped that you enjoyed reading about Henry Miller's family, our next edition will continue this theme and will be about Henry Miller, Jr.
Volunteers are joyfully welcomed.  Questions and comments are always welcome. Contact me
(Patti Perino) at 408-410-1495 or email at millerredbarn@outlook.com