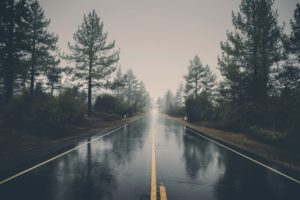 Since Winter is upon us…
I thought that this would be a good time to update you on what has been happening at The Barn and with The Miller Red Barn Association.
In May 2017, Jimmy Shrull Roofing, Inc. began work to replace the roof on The Barn.  There were a number of rafters and cross beams that needed to be fixed before the new roof could be put on.  Jimmy found a company that could supply him with the rough-cut redwood pieces that were needed, the same material used in the original roof.  Of course, like any project, the many repairs put us over budget. (A savior came to our rescue and funds came in to cover the overage.  More about that later…)  The roof is now completed and weather tight for the Winter.
Our new website, https://www.themillerredbarn.org, was launched in June 2017.  You will find a gallery of photos pertaining to Miller & Lux, Henry Miller and his family, all of the issues of 'Under the Eaves…', a place to shop for Miller Red Barn art work, T-Shirts, Pins, historical Maps, and soon Commemorative Wine Glasses, you will also find a link to make a tax-deductible donation.
The first annual BBQ at The Barn was held on June 17, 2017 (the hottest day of the year to that point).  All who were able to come to The Barn were treated to the best Tri-tip and Chicken dinner that anyone can remember.  Our Chef Bruce Haller, owner of Café 152 Burger and The Bread Company in Gilroy, had a great crew that served up a very tasty dinner, (I'm told this by many people…I forgot to eat).  Prior to dinner our guests were treated to appetizers and comedy by SakaBozzo, Gene Sakahara and Sam Bozzo, who came out of retirement to support the BBQ at The Barn.  They were ably assisted by Roy Shackel, retired Gilroy Fireman.  Jon and Pat Vickroy also created appetizers for the guests and did some only to be seen at the Garlic Festival awesome flame ups!  (Look for photos soon on the website.)  Our guests were also entertained by the one and only Elvis, Gilroy's own Donald 'Elvis' Prieto, who sang and gyrated for his adoring female audience.  The Bar was setup in The Barn and manned by Joe Zertuche and Mary Yates, their customers had a chance to look at The Barn from down under, (as it would seem, since the roof was not yet completed), and be served Budweiser and Stella Artois Beer or Guglielmo Wines. Guests also participate in our highly successful Local Wine Pull (for the Wine Pull, you bought a ticket and were guaranteed a bottle of wine.  The fun part was, you did not know what wine you would get.  It could be a great local wine or an outstanding $100 a bottle wine.). After dinner we held a Live Auction for a 7 day stay at the Westin Kaanapali on Maui (The winners are there now as I write this. I heard from them once at check-in and not since.  I think they are too busy having fun to call or write…), the results of the Silent Auction were announced and we called it a night.  We raised a NET of just over $10,000.00 for The Barn.  It was a great evening!  Thanks to all of the attendees and all of our helpers.
In July, The Miller Red Barn Association became a part of Amazon Smile.  If you shop on Amazon you can select a charity to receive .05% of your purchases.  It is an easy way to support The Barn and costs you nothing to do it.  So, if you or your business are Amazon shoppers, please go to; https://smile.amazon.com/ch/81-2628343 and select The Miller Red Barn Association as the non-profit you would like to support.
Also in July, (this is the savior part from above), I received an email from a member of the Native Sons of the Golden West, (NSGW).  The member had been traveling thru our area and stopped for breakfast at a local restaurant.  He picked up a copy of Morgan Hill Life and saw an article about The Barn and the upcoming BBQ at the Barn.  In his email he said that the NSGW would be open to offering us a grant, (after I picked myself up off the floor), I immediately sent the contact information to our Grant Writer, Marie Reed.  She put together a terrific presentation and we were subsequently giving a grant which covered the overages on the roof. (Life is so good.)  We received the check for $8,500 in September.
(July was a very busy month for us.)  Local retired farmer Angelo Benassi, donated a redwood barn that was the same age and material as The Miller Red Barn, to the Association.  The only stipulation was that it had to be torn down and the wood moved before the new property owners took over on August 1st.  Thanks to Kathy and Jack Chavez, Gary Walton, Steve Ashford, Jose Montes and many more volunteers we successfully meet our deadline.
In August, I was contacted by Leah Halper from Gavilan College, History Department and Service Learning facilitator.  She requested that our organization become a Service Learning Partner Agency with Gavilan College.  The Miller Red Barn Association became partners with two History classes, one related to Women's History and one related to California History.  Students who applied would be doing research for us.  The vision of the Board of Directors for The Barn, is to create a learning center that honors all of the different people who have lived and worked in our area, and where our children could learn the important history of South County, as well as how they fit into it.  Researching the lives of these people, from the native tribes to the current farmers and ranchers, is a huge project.   As you can see, having students work on research for us is a Win for us and a Win for the Service Program.  Sarah Kelly, one of our founding Board members, headed up this project for us.  She held orientation events for students who were interested in doing the research that the Board Members requested.  Twenty-two students signed up.  When their research is complete, I will post it on our website so that you can read it.
In October, we partnered with Victoria's Mexican Restaurant at 757 First Street in Gilroy.  Every third Tuesday of the month, for those customers who bring in or show their serve our Taco Tuesday flyer, Victoria's will donate 15% of that customer's bill to The Miller Red Barn Restoration fund.  Flyers are available on our Facebook page (https://www.facebook.com/groups/576722359191265/).
As the year is to quickly drawing to a close, The Miller Red Barn Association is asking you to include us when you make your end of year tax deductible gifts.  You, our loyal supporters, are the main source of income to restore The Barn (we receive no funds from the City of Gilroy) and to fulfill its' destiny to become a place that honors all of the people who have lived, and worked in the South County.  No donation is too small.  If you would like your name to appear on the Honor Roll of Donors, we hope you will become a Restoration Fund donor at one of the following levels;
(    )$1000 or more-Platinum    (    )$500-Gold    (   )$250-Silver    (    )$100-Bronze    (    )Other $________
Mail your tax-deductible donation to;
The Miller Red Barn Association
777 First Street, PMB 159
Gilroy, Ca 95020
Wishing you and yours a happy, health Holiday Season and a prosperous New Year.  Thank you for your support,
Patti Perino,
The Miller Red Barn Association, Promotions Chair
The Miller Red Barn Association is a 501(C)(3) non-profit organization EIN 81-2628343