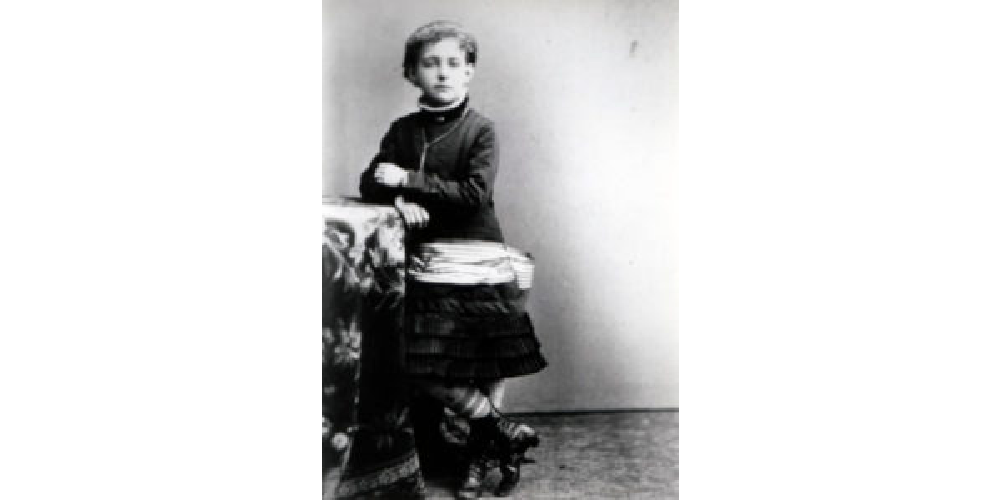 Volume 2 Issue 4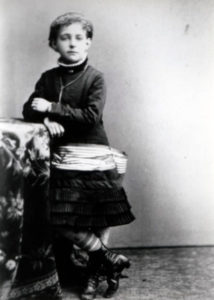 "Gussie" Sarah Alice Maud Miller
His name was Dan and he could run like the wind. He was a birthday present from her father and she loved him so much.  Dan was a thoroughbred and black as coal.
Her Uncle, Perry Robinson, began teaching her to ride before she was three years old.  She loved to ride astride as the cowboys did, but her father did not think that it was proper for the daughter of a wealthy businessman.  A special instructor, in San Francisco, taught her to ride side-saddle.  For a girl of 8, she was a very accomplished rider.
Gussie's favorite thing to do, when visiting the Bloomfield Farm, was to ride out with her sister Nellie to Soap Lake and then race back.  Of course, they had to slow down when they went through the old village of San Ysidro.  They would rest their horses under two large walnut trees along the side of the road and then ride back to the farm.
She loved the outdoors and prized the time that she could spend at Canal Farm, Bloomfield Farm and at the summer retreat on Mt. Madonna.  These were the places where she could roam the meadows and hills, watch the cattle, and talk to the cowboys.  All without a teacher to instruct her in deportment, like at the house in San Francisco.
At an early age, she decided that she wanted to be a boy.  She wanted to do everything that her older brother could do and even started to wear his old clothes.  The housekeeper in San Francisco received numerous letters from her father telling her to give the old clothes to the poor.  However, when the housekeeper discovered that Sarah was going through the bags of clothes in the basement and hiding the ones she cherished, the instructions changed.  The housekeeper was then instructed to take the old clothes and burn them.
She did give in to her father on occasion, and wore dresses for parties and photographs.  However, she would often overdress or wear combinations of clothing that where unconventional.  (If you look at her picture, you can see that under her stockings there is a second pair with a completely different pattern.  I think she was ahead of her time in fashion sense.) This seems to be where the nick name "Gussie" came from.  (The town of Gustine in California, bears her name.)  She also tried to act more ladylike at special events, but her heart was still out on the range.
Like her father, Sarah Alice was a wiz at math.  She also was interested in science and horticulture.  While studying, in the library at the San Francisco house it was easy for her to listen to her brothers' lessons which were much more interesting than her own. Had she lived, speculation is that, she would have been the one to take over running her father's businesses.
On the morning of June 13, 1879, Gussie came down early and was able to have breakfast with her father. Henry was leaving to take the train to San Francisco on business.  They talked about her plans for the day and about her beautiful new horse, Dan.
Later in the day, Sarah along with her sister Nellie, and her Aunt Frederike Pfeifer, left Bloomfield Farm on their way to Gilroy.  They were to do some shopping and make a stop at Mr. Briggs Pharmacy to have a soda at his new counter.
As Sarah lead the group toward town, Dan stepped into a gopher hole and fell.  (Near where Sandy's restaurant is today.)  Sarah was thrown to the hard ground and hit her head.  As Dan struggled to regain his footing, he rolled over Sarah's still body.  Dan had broken his leg in two places.  Nellie rode back to the Bloomfield Farm and a wagon came to take Sarah home. Meanwhile, a rider went to fetch the doctor.  It was possible that she was unconscious and would wake up.  (Henry had a similar experience and he did wake up.)
When the wagon arrived, the wrangler quickly put Dan out of his misery with a well-placed shot.  Then he picked up little Sarah and took her back to the Farm.  When the doctor arrived, he determined that Sarah would not wake up and probably died instantly when she hit her head on the hard ground.
Sarah Alice was the youngest child of Henry Miller, the cattle king, and his second wife, Sarah Wilmarth Sheldon.   She was also the child her parents most cherished, their "little flower."  At 4pm on the day of her death, Sarah Alice's body taken by train to San Francisco.
She was placed in the family vault at Laurel Hill Cemetery.   Laurel Hill Cemetery was a very dark and austere place.  After a few days, Henry and his wife decided that it was not the place for their little flower.  They decided to bring her back to the place that she loved.
In July 21, 1879's issue of the Gilroy Advocate the following was published;
The remains of Sarah Alice, daughter of Mr. and Mrs. Henry Miller, will be brought on the two o'clock train today from San Francisco and conveyed to the Bloomfield Farm for burial.  The friends and acquaintances of the family are invited to join the funeral procession and to be present at the service at the grave.  The place of burial is to be on the plateau situated on the west side of the Monterey Road.
The shock of this event was so traumatic for Henry, that he suffered a complete nervous breakdown. Often blaming himself for his daughter's death. Henry decided to take a trip to Europe and visited Germany.  This was the only time that he went back.
From that time until till his own death, Henry was never without a picture of his Gussie.  One day, Henry was robbed, he told the robber "Just let me take that picture out."  You can have the money and the watch.
On his bureau, Henry had a small picture of Gussie that he would kiss every night.  The housekeepers cleaned many a tear from the glassed picture.
Sarah Alice is said to have been seen riding Dan amid the fog swirling at Mt. Madonna or rocking quietly on the back porch of the house at Castro Valley Ranch.  The small, unsettled spirit still longing for the open spaces her father loved so deeply.
In 1928, the Miller's cemetery was abandoned.  Sarah Alice and other family members were cremated and placed in the family vault at Cypress Lawn in San Bruno. Family friends and favorite ranch hands were removed to what is now Gavilan Hills Memorial Park.
_____________________________________________________________
References
Edited by Charles Sawyer, Interviews by Ralph Milliken, One Man Show Henry Miller in the San Joaquin, (Los Banos: Ralph Milliken Museum Society, 2003)
The Cattle King, by Edward F. Treadwell, (Western Tanager Press, 1981)
An article by Pat Snar, former Director of the Gilroy Museum on Find a Grave. https://www.findagrave.com/memorial/180255932/sarah-alice-miller
July 21, 1879 Gilroy Advocate, Gilroy, California
______________________________________________________________________________
I hope that you found this story interesting and enjoyed learning more about Henry Miller and his daughter "Gussie" Sarah Alice Maud Miller.  Many bits of misinformation surround the death of "Gussie", now you know the real story.  The next story will be about Nellie, the only child of Henry and Sarah Wilmarth Sheldon Miller to live to adulthood.
Questions and comments are always welcome. Contact me;
(Patti Perino) at 408-410-1495 or email at millerredbarn@outlook.com
If you would prefer to not receive emails regarding The Miller Red Barn, please respond with "unsubscribe"